Our story
OICAN wear is the creative outgrowth of two entrepreneurs' personal connection to a clear problem and the burning drive to find the solution.
The company was founded in 2021 but the idea started already in 2020 when one of the founder's sons was diagnosed with a chronic illness that means an increased risk of injuries in connection with falls. In connection with the son's diagnosis, a cut-out bed mattress was assigned, which was recommended to be placed between pants and nappy in order to reduce the risk of back injuries. A creative and nice thought, but not an optimal solution.

When the search for better alternatives began, the family quickly became aware that there were almost no suitable alternatives on the market that were adaptable in everyday life. Even smaller alternatives that, from a chemical point of view, are considered compatible with children.
This is where the seed for OICAN wear was sown.
OICAN wear is a brand that has developed a newly developed protective material that is today integrated into quality & trendy clothing.
We want to give our children the best conditions to explore the world.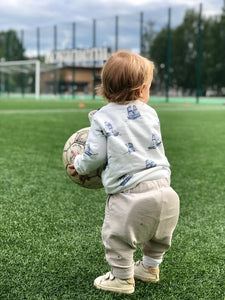 Sarah Hellstrom
Creative Director
Sarah & Sofie Hellström are sisters and the founders of the company.